Christmas Caroling – Special Thanks to all who came out for caroling this year. Thank you for making time for it in the midst of your busy schedules.  
2018 Parish Committee Meeting – 2018 Committee will be meeting this Saturday, Dec. 23rd at 3PM.
Aramana Open House – The Aramana will be having its open house for this month on Thursday Dec. 21st from 9am-12pm and then from 4pm-6pm.
2018 MGOCSM Elections – Elections for a new Secretary and Treasurer will be conducted on Sunday, Dec. 24th after Service.  Anyone interested in the position should contact Ms. Danniya Samuel at the earliest.
MGOCSM Bowling Night – The MGOCSM will be hosting a bowling night on Friday, Dec 22nd at 6pm at Sheridan Lanes on Jericho Tpk. for all MGOCSM & FOCUS members.
Area FOCUS Fellowship – On Friday, January 19th 2018 at the area FOCUS will be having a a meeting at St. Thomas Long Island from 6:30pm-9:30pm, see the flyer below for more details.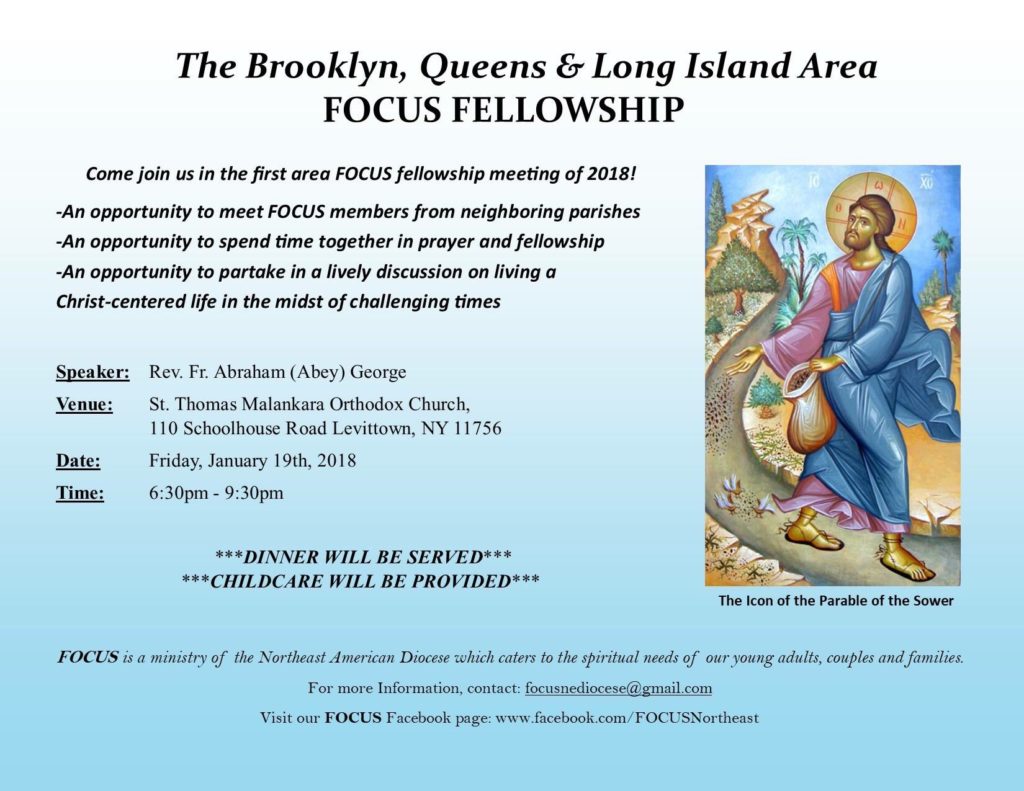 Upcoming Liturgical Services:
Christmas Eve – Evening prayers will be held on Sunday, December 24th at 6:30pm
Christmas Day Service – Divine Liturgy will start at 7am on Christmas Day.
New Year's Day – Monday, January 1st: Service will begin regular time as Sundays: 8:15am. New Years, and the Feasts of Sts. Basil the Great and Gregory the Theologian.
Denaha Service – Saturday, January 6th: Matins for Denaha Service will begin at 8:00am followed by Holy Qurbana.
Nineveh Lent (3 Days Lent) – In lieu of Nineveh Lent, The Parish will be having evening prayer on Monday 22nd and Tuesday, 23rd at 6:30pm. On Wednesday, the 24th we will be having Holy Qurbana starting with evening prayer at 6:30pm.
Nineveh Lent Retreat – Holy Transfiguration Retreat Center is pleased to announce they will be conducting a Retreat during the Fast of Nineveh. The Retreat will begin on the evening of Sunday, January 21, 2018 and end with Holy Qurbana on the morning of Thursday, January 25, 2018. During these days, prayers will be offered in our chapel, along with devotional addresses/meditations offered by our esteemed clergy. There will be opportunities for Holy Confession and counseling. Participants are encouraged to register online at the link provided here:
https://transfigurationretreat.org/events/three-day-lent-retreat-registration-form/
The registration fee of $250 is to be made payable to the Northeast American Diocese.